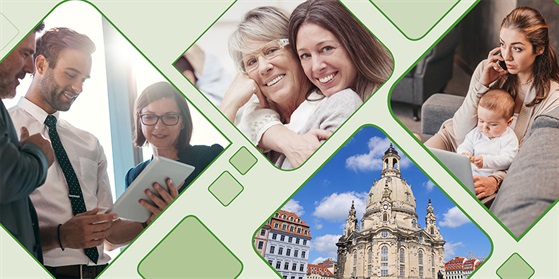 Questions and answers
As a medium-sized company based in Dresden, we offer our customers UI design and development with specialization in Microsoft technologies and mobile solutions. Our experts have many years of experience in their field and are passionate about their work and customer orientation. We support you at your step into the mobile world - whether for Phone, Tablet, Laptop with XAMARIN for Windows, iOS or Android. We also implement web solutions based on Wordpress or native HTML. In addition, as experts for accessibility in IT solutions, we offer comprehensive support. We design your products from conception through usability to UI design and implementation for an optimal user experience. As .NET experts, we develop your software and apps effectively and in partnership with you in a professional process. In trainings we pass on our high practical knowledge to your employees. We help shape the future of society and administration. This includes digital social responsibility projects, such as the "Welcome App Germany" or the "Compatibility of Family and Career" solution. One success factor is our self-developed, innovative headless CMS system "ConDiSys".
As a non-profit enterprise, we have the declared goal of doing good with the means of digitization - especially for people with disabilities, impairments and migration background as well as the socially disadvantaged. The IT projects are designed to improve these people's everyday lives and provide them with targeted support in individual aspects of life. Justice means letting the weaker members of our society participate in the benefits of digitisation. The charitable projects cover the following topics: For fair opportunities in the labour market and society For lived openness to the world and successful integration For accessibility, inclusion and genuine participation For better teaching and learning than implemented education 4.0
Document
Current brochure of IT helps gGmbH
In the latest brochure of the non-profit sister company IT helps gGmbH you can get a good picture of the intention of IT projects, as well as the effect on the society helps gGmbH, gain. The project is the charitable purpose of promoting equal opportunities for the disadvantaged and family life. IT helps gGmbH operates another free solution to support in the area of chance boost: the welcome-app-Germany with a focus on foreign residents and migrants.
IT hilft gGmbH - www.it-hilft.de
Current brochure of Heinrich & Reuter Solutions GmbH
In the latest brochure of the promoter Heinrich & Reuter Solutions GmbH, you can get a good picture of the IT professional behind it. The project of family and profession is being implemented with the in-house content distribution system. In addition to the project, HeiReS developed another free solution to support in the area of skills shortage: the welcome-app-Germany with a focus on foreign professionals.
Heinrich & Reuter Solutions GmbH - www.heires.net
Helpful Links

Website of IT hilft gGmbH
Web site of the non - profit partner IT hilft gGmbH
Advert
Addresses