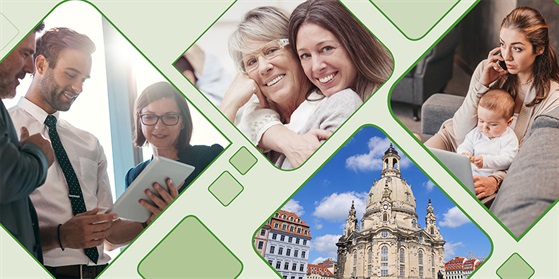 Questions and answers
Here you will find many useful help and information. You'll probably end up in one of the two groups sooner or later. But if you are currently taking another path, such as training or studying, you will also find information that will help you.
Suggest question
Checklist
Document
Folder to family and work
Our brochure on the family and work project informs companies, authorities and social partners about the project. We are happy to send you the brochures free of charge on request.
Project Family and work - www.familie-und-beruf.online
Current short presentation to the project of family and work
Here you get a good overview of the family-and-occupation project. In addition to the current state a preview at our planning will be shown.
Project Family and work - www.familie-und-beruf.online
Helpful Links

Animated explanatory video for the project Family and Work - YouTube
The video explains the solution to family and work with the help of sketchy pictures, speakers and subtitles.

Project website for family and work - HeiReS
Here you will find updates and information about the project for work and work. There you will also learn more about active participation.

Website of the non-profit distribution partner IT helps
Website of the IT helps gGmbH with information about their charitable projects.

Website of the project partner HeiReS
Website of the company Heinrich & Reuter Solutions with information about the company itself and its projects.