Government
In the state capital of Dresden, decisions are made by the elected city council, the implementation of which is the responsibility of the mayor. The mayor is at the same time chairman of the city council and head of the city administration.
Dresden Lord Mayor
Dirk Hilbert was elected Lord Mayor of Dresden on 5 July 2015. He took office on 3 September 2015, the term of office is seven years. In addition to the mayor, there are seven mayors elected by the city council.
The Lord Mayor essentially holds two important positions: he is Head of the City Administration and Chairman of the City Council.
He is responsible for the internal organisation and administrative affairs of the city administration. Executes the decisions of the City Council and its bodies.
Dresden City Council
The elected representative of the citizens* of Dresden is the City Council, whose chairman is the Lord Mayor. With the election on 25 May 2014, the city council was constituted on 4 September 2014.
The city council has two important tasks: It lays down the principles with regard to Dresden's administration and makes decisions on all matters concerning the state capital. By resolutions of the city council it can give orders to the mayor and create valid city law by decrees.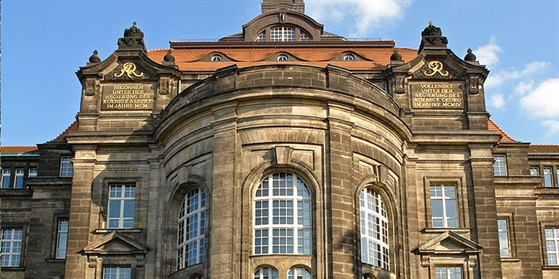 Dresden Staatskanzlei back - Kolossos, CC BY SA 3.0